In My Family and Other Animals, Gerald Durrell's book about life as a nature-obsessed child in Corfu, there's a description of the 'rose-beetle man': a dumb peddler of, among other things, metallic green beetles on lengths of thread, sold for small children to play with, buzzing around in circles like little aeroplanes.
This is the Rose Chafer, Cetonia aurata. My own particular memory is of seeing one fly over a pub garden in Bristol when I was a student.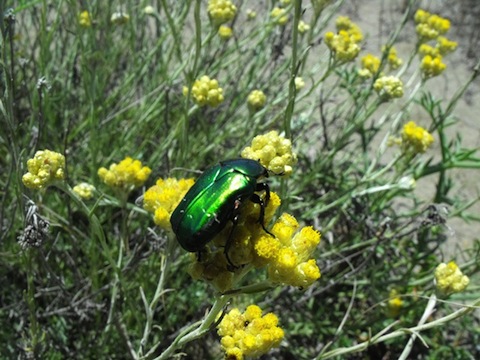 I can't remember the name of the pub, or precisely where it was, or exactly who was with me; but it was summer, and the sun was shining, and I was with friends, and there was this amazing big metallic green beetle buzzing over the garden. So it's a happy memory. Vague but happy.
» Big Metallic Green Beetle…Rose Chafer (Cetonia aurata) is © Mgeorge733 and used under a CC by-nc-nd licence. Cetonia aurata is © etrusko25 and used under a CC by-sa licence.