I went to see Modigliani and his models at the Royal Academy today. In a sense, there was nothing very surprising about the exhibition since Amedeo Modigliani only really seems to have painted rather stylised portaits and very pink nudes, including this one of Joan Collins from 1917: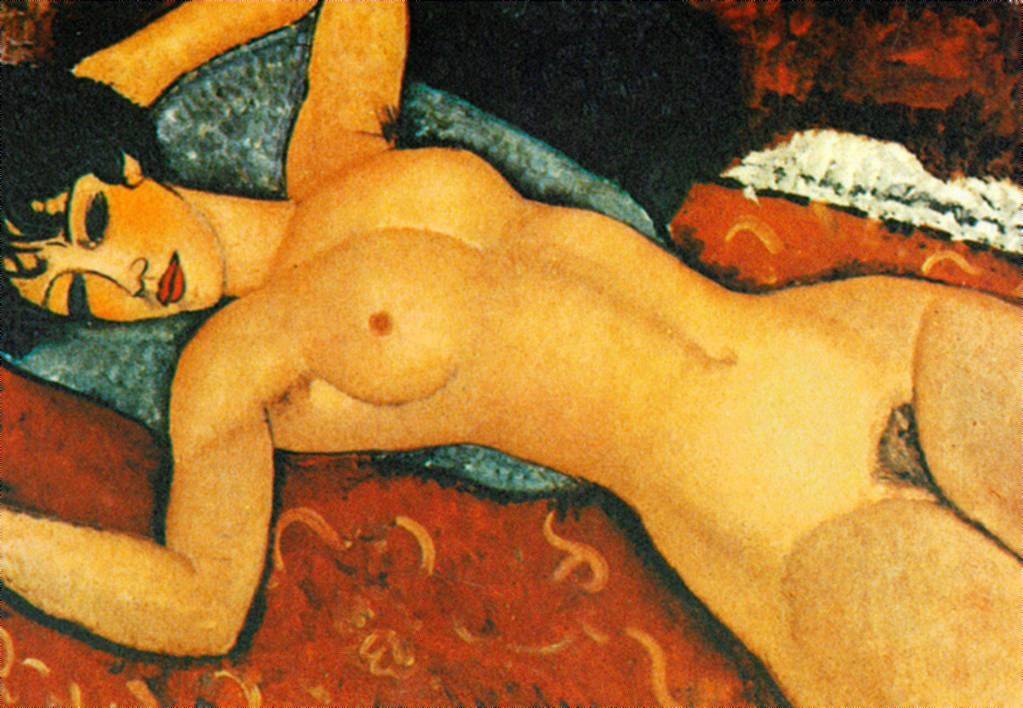 It (she?) looked pinker in real life.
The stylised portraiture is intriguing, because although the basic characteristics were fairly consistent — long neck, rounded shoulders, elongated face — and the paintings all have the Modigliani look about them, the overall effect varied considerably. Some came across as caricature, including this one:
Others have a rather impersonal quality that suggests that the particular model is almost irrelevant, that the subject is just a generic woman. This portrait of his lover/common law wife, Jeanne Hébuterne, seems to me to tend to fall into that category, although not as much as some of his other pictures of her:
To get a sense of how stylised the portraits are, this is a photo of Jeanne Hébuterne:
Many of the portraits did manage to look like portraits — like they showed a real personality rather than a caricature or a blank —but I didn't note down any titles in the exhibition and haven't managed to track down good pictures on the web to use in this post. Which is a bit unfair on Amedeo, but them's the breaks. I did enjoy the exhibition; the best of the paintings have a real presence to them, and they're never less than likeable.
The most intriguing of his stylisations is perhaps the blank eyes. Some of his portraits have irises, but most have blank eyes. I can only guess that he chose to leave the eyes blank because otherwise they were too distracting. In that sense they unbalance a portrait.
In Green Park (the nearest tube station) I was amused to see that someone had scratched out the eyes on a movie poster in what I would like to believe was a reference to Modigliani, but was probably just because they were bored. I didn't have a camera, but here's a reconstruction:
And finally, a bonus picutre. When googling Modigliani, I discovered Cyclommatus modigliani:
I assume the beetle is named after some other Modigliani — an entomological relative — but you never know, perhaps it was named by an art-loving beetlist.