I just visited the slightly uninspiringly titled 'Points of View' exhibition at the British Library, which is an exhibition of nineteenth century photography. I've been very impressed with the BL's temporary exhibitions since they moved to the new site; they obviously have an absolutely staggering amount of stuff in their collections and they do a good job of displaying it, with a thoughtful selection of material and lots of interesting information.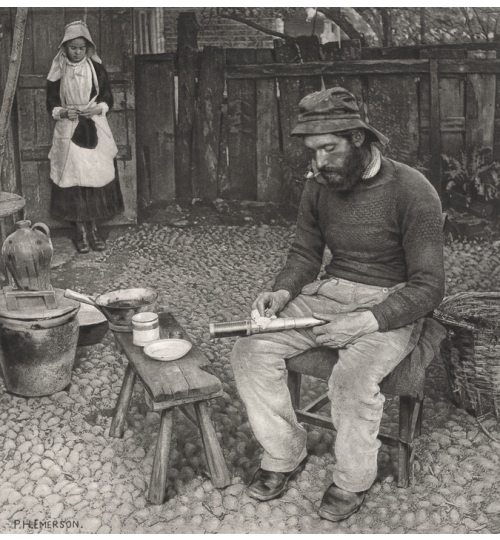 Not all subjects are equally interesting, of course — I glazed over a bit going round their exhibition of modernist pamphlets — but C19th photography has a broader appeal. It starts with the early history, Fox Talbot and all that, and then the rest of the exhibition is arranged thematically: travel, portraits, science, industry and so on. I liked the way they manage to provide plenty of variety: some pictures chosen for artistic merit, others for historical, social or technical interest, and some a bit quirky, like spirit photographs taken by spiritualists. Or the staged picture taken by an Indian Army officer of an officer being woken by his manservant after a drunken night before.
One thing that is striking is the explosive speed with which photography became popular: from Fox Talbot's early experiments in the early 1840s, it was a major commercial enterprise within ten years, and being used in every conceivable way all across the world, from Brazil to the Himalayas, within twenty. Perhaps that isn't surprising — the advantages are obvious — but when photographs were taken with fragile glass plates which had to be chemically prepared immediately before use in a portable darkroom, it is still remarkable.
The exhibition is kind of huge, but it's also free, so you could always take a break halfway round and go for a cup of tea and a bun.
» 'A Fisherman at Home' is from Peter Henry Emerson's Pictures From Life In Field And Fen, a photographic record of life in East Anglia published in 1887.
The other picture is a section of 'Mussucks for crossing the Beas River, Kulu', taken in India by Samuel Bourne in 1865. The 'mussucks' are inflated bullock hides used to cross the water.