Interesting one, this. Lee Jackson of victorianlondon.org decided to use some of his archive of digitised Victoriana to raise a bit of money to help support the site and put this for sale as a Kindle book for the minimum price of 86p. So I thought I'd give it a try.
Rook was apparently a Victorian journalist and this book claims to be a true account of his conversations with a young Lambeth criminal called Alf — a 'hooligan' when that word was new. It is what you might expect from a journalist writing about a colourful lowlife for a popular audience; that sensationalism makes it a genuine page-turner, but it comes with the usual scepticism about writers who seem more interested in a good story than accuracy. It seems pretty safe to say that it's not actually 'true'; it's harder to judge whether it's a realistic portrayal of that way of life.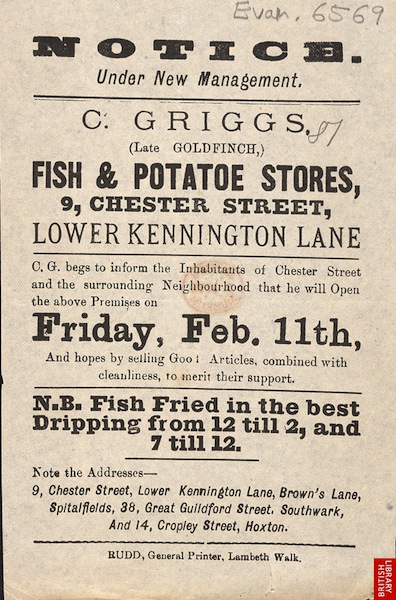 However, read as a novel, it's entertaining stuff. Alf is a classic anti-hero, charismatic and largely amoral, displayed for the prurient pleasure of the reader. It must have been fairly racy stuff in 1899; sex is only really hinted at with references to the number of Alf's romantic entanglements, but there's a plentiful supply of violence, crime, colourful slang and a general lively seediness.
It's also fun for me personally that it's all south London: the action all takes place in Clapham, Vauxhall, Elephant and Castle, Peckham Rye. The centre of this particular universe is Lambeth Walk, which was then a street market and is presented as a place where all human life is present — his descriptions of it read like a tourist visiting a middle eastern souk. The road called Lambeth Walk is still there, but the market is gone, and judging by Google street view, what is left is a very quiet and undistinguished local street. You can still see the Victorian buildings along one side, but thanks to some combination of the Luftwaffe and Lambeth planning department, the other side of the road is all large housing developments and so the feel of the street is quite gone.
It's odd to think about how some of these places have changed. I was surprised to learn once that earlier in the C19th the roughest, most dangerous ghetto in London, where the police would only go in groups, was… Seven Dials. Which is now part of the overflow of Covent Garden, mainly consisting of quirky little fashion outlets, cafes and the like.
Anyway, at this point I'm just rambling. So I will stop.
» The image, from the British Library, is only loosely relevant, but I chose it in honour of a greengrocer I used to see from the 37 bus somewhere between Brixton and Clapham. It had a nice, swirly hand-painted sign saying 'Mr Cheap Potatoe'. It used to cheer me up every time I saw it; sadly it doesn't exist any more.