Without knowing a lot about Joan Miró, I've always liked his work when I've seen it. It's interesting the way that the work of one artist will speak to you and another won't… so I've aways liked Miró, never liked Chagall.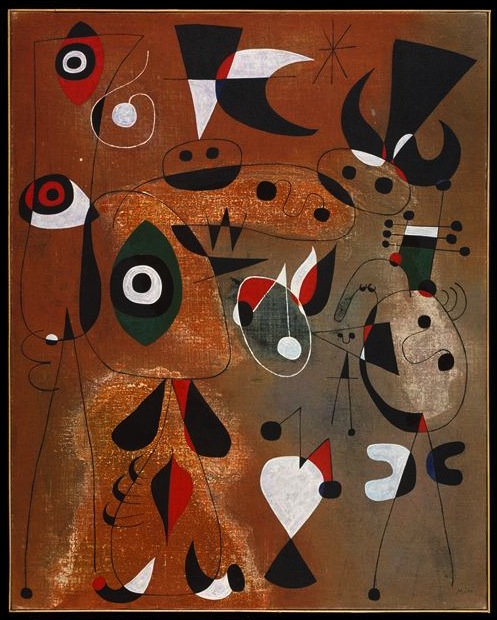 Or at least I say the work 'speaks to you' but that's not the right metaphor; I don't think it's because the paintings are making some sort of intellectual or emotional connection. Or at least I don't think that's primarily what it is; it's more to do with a basic visual aesthetic. I tend to like controlled, precise, carefully composed paintings with strong clear colours: so I like Vermeer, but find it hard to like Rubens. It's suppose it's a graphic design sensibility, really.
Articulating it like that does make me feel a bit shallow; taking great painters and sorting them into sheep and goats according to the most superficial and basic elements of their visual style, well, it doesn't exactly make me a sophisticated judge. But there you go. It's not the only factor which decides which work I like, but it certainly makes a difference.
So I was predisposed to like this exhibition. Which I did. I thought it was fabulous. Mainly because I liked all paintings, of course; but also because I didn't know much about Miró, so it was interesting to see the chronological development of work. There was also quite a lot of biographical context, much of it related to Spanish politics — Miró's Catalan identity, the Spanish civil war, WWII and so on. So that was all quite interesting.
But mainly I just love the paintings. I want to own all of them and have them on my walls.
» Women, Birds, and a Star, 1949. Which is in the Met, although I got the image from RMN.