Well, that was a bit depressing: not so much because of the result, but the tendency to revert to long balls hoofed up the front, the lack of involvement of England's wingers, the lack of controlled possession in midfield… all the usual England failings, in fact. Not to mention the further undermining of confidence in England's goalkeepers. Ho hum.
However, World Cup food blogging must carry on. And so, my USA-themed food: cornbread and creole fried shrimp. The cornbread recipe I used was this one. Partially because it's a British recipe, so I can weigh my ingredients rather than all that measuring quantities by the cup that American recipes do. And partially because it suggests substituting yoghurt for buttermilk, which is what I was planning to do anyway. I cut down the quantity of chillies slightly and cooked it in a pre-heated cast iron frying pan, though. It turned out rather nice, I must say: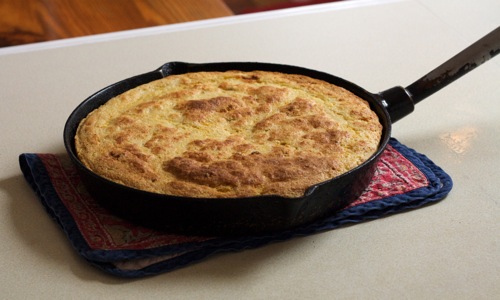 The shrimp was a bit of an improvised recipe; I covered the prawns in a homemade creole-type seasoning mix — chopped thyme, dried oregano, paprika, crushed garlic, a dribble of pepper sauce, black pepper — and left for a couple of hours (the duration of the Nigeria-Argentina game, in fact).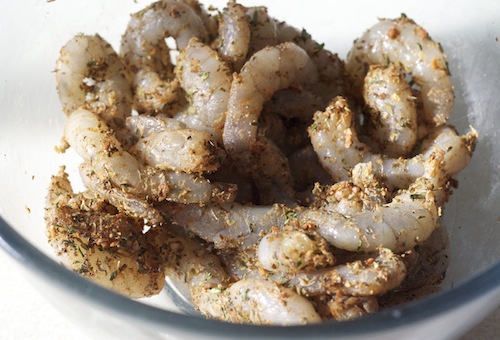 Then I basically did the standard flour-egg-breadcrumb thing except with a mixture of cornmeal and cornstarch instead of breadcrumbs, and deep-fried them. Came out looking quite impressive:
But actually, although it tasted OK, the coating was a bit coarse and not very crispy. I don't do a lot of deep-frying, so I don't really know why… oil not hot enough? I think if I tried to do a cornmeal based coating again, I would use a wet batter rather than dry cornmeal coating. You live and learn.
I'd definitely do the cornbread again, though. Yummy.
So, roll on Algeria!