So I went along to see the big Damien Hirst show at Tate Modern.
It rather lacked the element of surprise; whatever Hirst's other qualities, he is a great self-publicist, so anyone living in the UK with an interest in art is already very familiar with his work. His earliest student pieces were new to me; apart from that I think there was only one work in the whole exhibition which I didn't immediately recognise.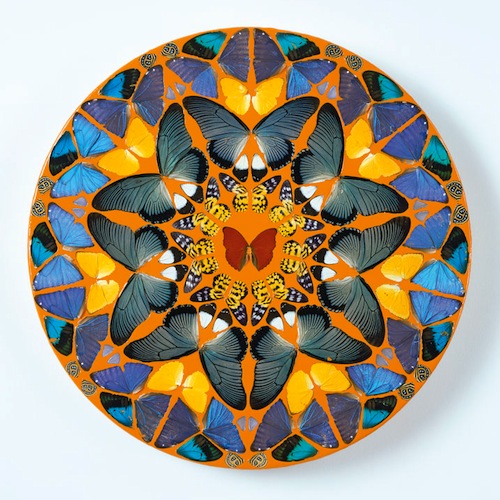 I didn't come out of this feeling very enthusiastic. Sometimes you go into a big retrospective, and seeing all the work together makes it more powerful: because you can see the threads running through the work, or the development, or you absorb the artist's aesthetic and gain a deeper sense of what they're trying to do which you don't get from individual paintings.
I think the opposite is the case with Damien Hirst. His work often works well in a mixed exhibition: it has a clear, simple quality to it and a designery aesthetic which helps make it stand out when it needs to compete for your attention. But when you put a whole lot of his pieces together, it starts to seem obvious and corporate and a bit dull.
You can see why Hirst became so commercially successful: his work is instantly recognisable, easily produced in large quantities, and looks modern without being too difficult or threatening. Just as Abstract Expressionism was the perfect art for big corporations in postwar America, when they needed something modern looking to hang in the lobbies of their shiny new glass and steel office buildings, so Hirst was the perfect artist for the time before the crunch. Ideal for people who find themselves with a startling amount of money but who don't have much confidence in their own taste. Like Prada or Bentley or Patek Phillipe.
And why not, after all. He didn't create the madness of the art market, he just did a very good job of exploiting it. And he's used his money to build up his own big collection of contemporary art, which I believe he's planning to open to the public. So I approve of that.
And despite the grumpy tone of this post, I don't dislike his work — but seeing a whole load of it one place made me like it less rather than more.
» The picture is Psalm 23: Dominus regit me. Butterflies and household gloss on canvas, 2008.