Albert Salvadó is an Andorran novelist; The Teacher of Cheops is the only one of his books to be translated into English, and it is, unsurprisingly, my book from Andorra for the Read The World challenge.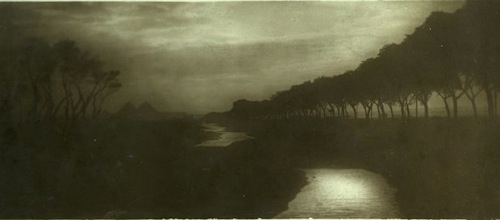 It is, as the title suggests, a historical novel set in ancient Egypt. It tells the story of a slave, Sedum, who gains his freedom and rises through the 4th Dynasty equivalent of the Civil Service; along the way he is tutor to the young Pharaoh-to-be, Cheops.
It was OK. I can't get very excited about it, but apart from a rather self-indulgent plot twist at the end, it was fairly inoffensive.
» The photo is from the British Museum: 'view of a road lined by trees, with a river next to it (the Nile), leading to the pyramids, Khafre, Khufu [i.e. Cheops] and Menkaura, which are visible in the background; Giza, Egypt, 1920s'.