I know I've been back for a while now, but there was one thing I've been meaning to blog about. The place we were staying was only a village, really, but in the best French manner it had a town square with a handsome town hall, in front of which was an obelisk-shaped monument that looked like it might be a memorial to the dead of the Great War, or just an ornamental drinking fountain.
But when I wandered over to look at a face carved into the top of the obelisk, it turned out to be Galileo. Which seemed a bit odd. Surely the great man had no connection to this little village in Languedoc? And on the other side was a portrait of Isaac Newton. But it gets better: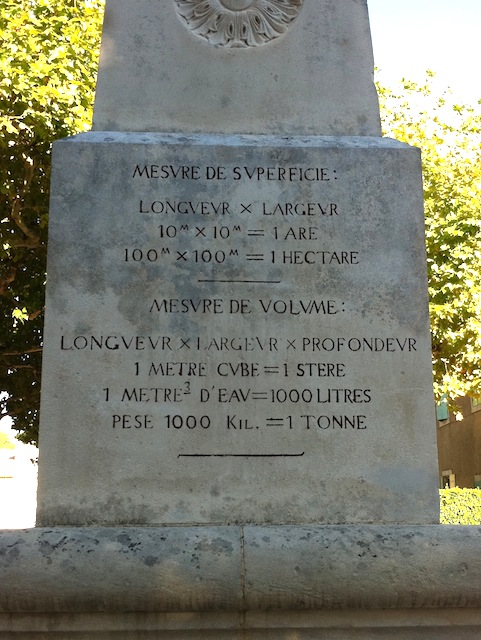 Yup, as a nearby sign explained, this is a monument in honour of the metric system, erected by the mayor of St-Victor La-Coste in 1888 for the centenary of the French Revolution.
Admittedly, given that the French revolution was, among other things, a brutal, blood-drenched clash of social classes competing for the chance to wield power, it might be seen as whitewashing to memorialise it as a rationalist Enlightenment project typified by a sensible reform of the system of measurements. But the French are hardly alone in being selective about the bits of their history they choose to celebrate.
And you know what, the metric system is a pretty great idea. Hurrah for the C19th French provincial bourgeoisie and their civic pride in the ideals of the Enlightenment.
On the other three sides of the obelisk, there are a list of the mayor and local council members who erected it, and some further details about the town. But my favourite bit is this: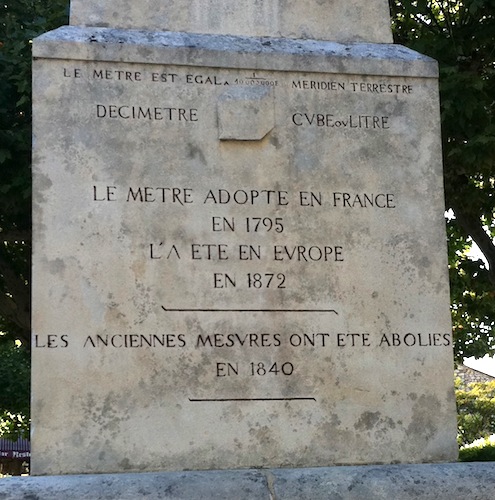 I love that boast: 'The metre adopted in France in 1795; the rest of Europe in 1872'. I'm just surprised they resisted the temptation to add a line saying 'England: still in the dark ages'.
Originally there were also a thermometer and a barometer attached to the monument, but they have sadly gone.
Incidentally, I just love the typography.
The numerals and the Q are particularly pleasing, but the whole effect is very good; it's a pretty standard Roman-style inscription but it has a bit of character. Perhaps it's just the extra personality that comes with being hand carved by a real craftsman; we are surrounded by too much bland computer-generated signage these days. I miss hand-painted shop signs.